Storyteller: The Art of Roy Henry Vickers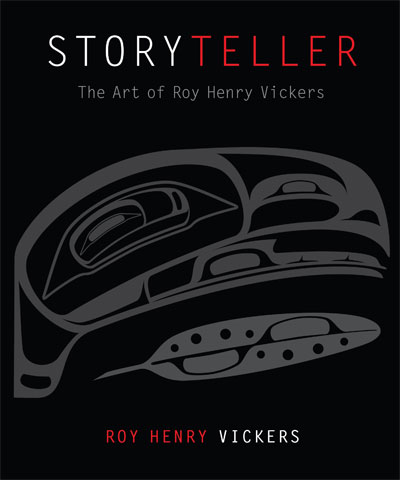 Roy Henry Vickers and Robert Budd
"It was my great honour to act as Project Manager in presenting 118 of Roy Henry Vickers' art works in this stunning book". – Robert Budd
---
Roy Henry Vickers is known around the world for his unique artistic style marked by clean lines, vivid colours and natural themes drawn from the rugged beauty of the west coast of British Columbia. Influenced by his Tsimshian, Haida, Heiltsuk and British heritage, Vickers unites the stylized forms of his aboriginal ancestry with the realism of European art, creating vibrant images that speak to a universal spirit. His limited edition prints can be found in homes, museums and galleries around the world and have been presented to royalty.
Storyteller collects a decade of prints and paintings by Roy Henry Vickers into one stunning volume, including 118 previously unpublished works, making this a much-anticipated addition to the libraries of admirers of Pacific Northwest art. A note from the artist accompanies each image, inviting the reader to a deeper understanding of both art and artist.
Review in the Journal of BC Studies:
http://bcstudies.com/?q=book-reviews/robert-davidson-abstract-impulse
Storyteller: The Art of Roy Henry Vickers is available from quality Canadian book retailers.
Visit Indigo and Chapters, Coles & Smithbooks bookstores.
Shop online
Learn more:
All works copyright Roy Henry Vickers